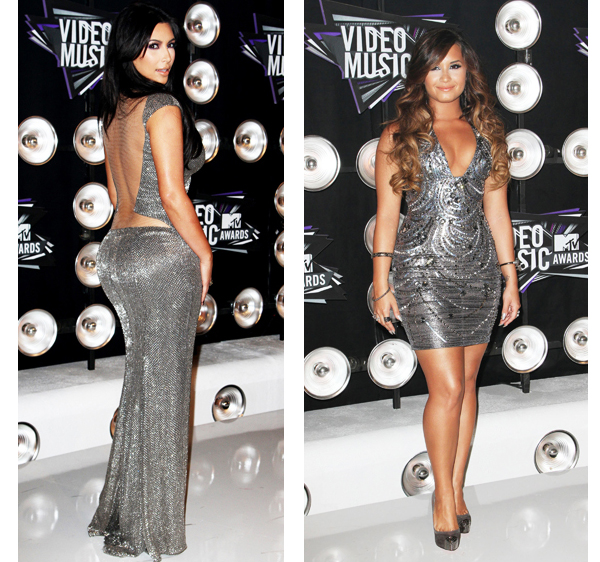 L--Kim Kardashian, R--Demi Lovato
Kim Kardashian

's curvy structure are more powerful than we thought!

American singer and songwriter,

Demi Lovato has disclosed that kim's intimidating curvaceous figure had a really important backing on her body structure as a young girl, at a time when she was struggling with an eating disorder.
Making the shocking revelation during an appearance on

The Ellen DeGeneres

Show

which will be broadcasted later today, Wednesday, February 10.
The 23-year-old star
who
made her debut as a child actress in Barney & Friends,
explained that before the 35-year-old
Keeping Up With The Kardashian
reality star became famous, all the celebs she was looking up to were absolutely skinny.
"When I was growing up, at the kind of age where your body starts changing and you want to be cool, it was in that era of when very, very, very thin people were the popular people in Hollywood, so that's what I had to look up to,"

she said.
Michael Rozman/Warner Bros

"When the Kardashians came on the scene, that was the first time that I really associated curves with beauty, and it was just so new to me,"

Lovato, 23, continued.

"I remember thinking, 'Wow, that's so cool!' And even in a time when I was still struggling with food, I was able to look at Kim's curves and be like, 'I should really be proud of my curves,'"

she added.
And that body confidence is what informed Lovato's decision to strip off for her now famous
Vanity Fair
cover.
"Now there's tons of beautiful, curvy women out there,"

Lovato said.

"But it made me feel more confident in my skin to do that Vanity Fair shoot,"

she added.